How It Works
COWORK|RS offers you a ready-made community with the potential for collaborations with dynamic people working on cool projects. Our organizational setup takes care of the practical stuff–so you don't have to. The space is bright and comfortable, and makes challenging work easy and fun. The layout encourages random conversation between members to spark ideas, solve problems and collaborate. Our staff works directly with members to support your business needs and make important connections.
Communal Workspaces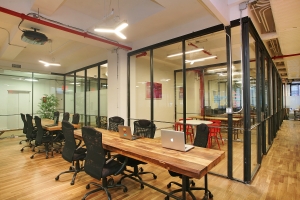 Our well-considered communal workspace is innovative, functional and tailored to your needs. There are areas for socializing, working on your own or in teams, and connecting with other people doing cool and productive stuff. A reliable office set-up makes work a breeze.
Don't want a monthly package just yet? Instead of trying to work in a noisy, crowded cafe with subpar sandwiches, our communal space can be booked daily to suit your needs. And the coffee's on us!
Private Workspaces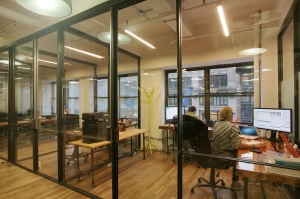 Our private workspaces offer you the freedom and flexibility of having your own space and the convenience of being part of a larger organizational setup with access to meeting rooms, high-speed internet, photocopy and fax machines, audio-visual equipment, the COWORK|RS Café, mailboxes and more.
Meeting Rooms
COWORK|RS offers you a central location to hold meetings with potential clients, employees, and investors for those times when you need a face-to-face to seal the deal. We give you access to thoughtfully designed spaces for small or large groups, and your choice of the latest audio-visual equipment so your presentation goes off without a hitch.
Lounge

Relax, put your feet up and take a break from all the hard work you've been doing to build your business. Grab a coffee. Breathe. Enjoy a game of foosball with new friends. At Coworkrs, your business is your passion but playtime is non-negotiable.